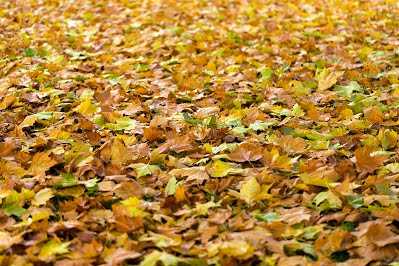 Paul's Landscaping provides Fall Cleanup. Fall cleanup is important, as leaves that are left on the yard until spring look unsightly, and can even kill the lawn if left long enough. Furthermore, leaves can serve as a habitat for ticks that can carry Lyme and other potentially serious tick-borne diseases. Paul's Landscaping recommends having a minimum of three leaf cleanups each fall. This helps to prevent the lawn from getting fungal diseases caused by moist leaves smothering the grass. It also helps to prevent the majority of your leaves from blowing on your neighbor's property. Paul's Landscaping uses a powerful leaf blower to clear your yard of leaves and debris, which are then placed on a tarp and placed by the curb or hauled offsite for disposal, per customer request.
Importance of Fall Cleanup
As important as leaf cleanup is, without the right tools and the right experience, it can be very time consuming. Hauling tarps loaded with leaves, particularly wet leaves, is heavy work. Many homeowners spend countless hours of precious time to maintain their properties, while others hire an experienced, Webster, NY area landscaper such as Paul's Landscaping. Hire Paul's Landscaping today!